Country music has received some great new talent over the years, but the latest duo is kicking up a real storm with their debut single "Girl in a Country Song". They are of course Maddie Marlow and Taylor Dye, better known as Maddie & Tae. For the last four years they have been working together and it has paid off in all the right ways. In a matter of months they were able to turn country music on its head and delivered an outstanding debut at the Grand Ole Opry.
Everything started with the release of their single in July. By poking some fun at the way guys tend to objectify women in their bro-country lyrics and videos they have managed to grab widespread attention. Current sales for the song exceed 340 000 and the video went viral very quickly. They co-wrote the song with Aaron Scherz, who also played a part in the production alongside Dann Huff.
Maddie & Tae made such a huge impression that they received an invitation to one of the most important award ceremonies for country artists in addition to sitting down for numerous interviews. In one of those interviews they were asked what they were doing in 2013 on the night of the CMA Awards. The answer? They were sitting in their PJs eating popcorn. Within a year they went from the couch to a spectacular red carpet event and they made sure they were ready for the occasion.
Shortly before the big occasion took place they made a stop at WYRK for a rather unconventional interview with deejays Rob Banks and Liz Mantel. The latter invented a game on the spot entitled "Napkins" and even though it started with tame questions it got more personal as the game unfolded. At the end of the interview everybody knew that Tae passes gas, burps and sweats much more than her partner. She blamed the bad habits on her brothers and stated "No guys are going to like me after this video".
They also made their "late night" debut in September when they appeared on "Letterman". It was regarded as a performance that was full of energy and despite the nature of the song; it's all in good fun. One of the most recent interviews they had was on "Women in Country" and it looked back on their lives before reaching success.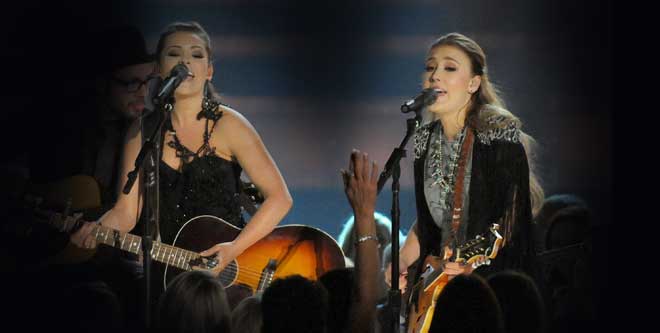 Not everyone was impressed with their song, such as Brian Kelly, singer for "Florida Georgia Line". According to him he doesn't know one girl that doesn't want to be a girl in a country song. In response the duo said they never intended to step on any toes, and even though they can't speak for anyone else it's definitely not a position they want to be in.
Maddie & Tae has released their short EP on the 4th of November and it features the song that made them famous. The additional songs are entitled "Sierra", "Fly" and "Your Side of Town". For the revealing process of the cover art they relied heavily on their fans to share it by means of social media. They are currently very busy with their tour which has been scheduled to continue till late July.