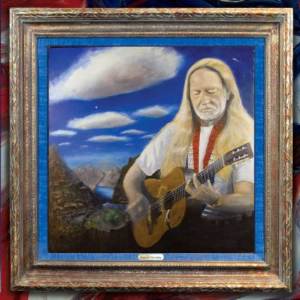 Promised land Music has announced that Willie Nelson's Peace in the Valley has been officially released!  The album is available now direct from Promised Land Music, Amazon and iTunes.
The album is also available on all major digital sources.
Here you can listen to all the songs from the new Willie Nelson: Peace In The Valley album just released by Promised Land Music.
SONGS:
Troublemaker
 

Dreaming of A Little Cabin
Family Bible
You Can't Have Your Hate and Jesus Too
My Body's Just a Suitcase for My Soul
I Saw the Light
In God's Eyes
A Beautiful Life
Kneel at the Feet of Jesus
Peace in the Valley
Willie Nelson Peace In The Valley CD
The CD includes a jewel case and artistically illustrated full color CD booklet of Willie and Willie Nelson, Jr (Billy).
$11.88 Add to Cart
Willie Nelson Peace In The Valley Digital Download
The digital download includes high quality MP3 songs, plus a complete digital version of the colorful CD Booklet.   It is available instantly!
$9.88 Add to Cart